Varthabharathi Kannada Daily
Varthabharathi Kannada Daily
Varthabharathi. Daily newspaper in Mangalore, India with local news and community events.
Updates
Varathabharathi Also spelled as Vartha Baharathi or Vaartha Bhaarathi, is a daily Newspaper published from Mangalore[1] and Bangalore.
Varathabharathi (Kannada: ವಾತಾ೯ ಭಾರತಿ) is the fastest growing Kannada daily (ಕನ್ನಡ ದಿನಪತ್ರಿಕೆ) in the Indian southern state, Karnataka, with a prominent presence in the coastal region. Vaarthabharathi is a popular Kannada newspaper amongst the Kannadiga expatriates living in the Persian Gulf States.
Varthabharathi has a formidable readership in the entire coastal region of the state and its adjacent districts. It has already emerged as the largest circulated Kannada daily newspaper in the gulf region. This newspaper has won widespread admiration from various quarters for its fearless stand on several critical issues and also for the role it has played in carrying the true version of the events in many cases.
In its process of expanding, Vaartha Bhaarathi has launched its Bangalore edition on 29.08.2006 while commemorating its 3rd anniversary at N.G.O. Hall, Bangalore. With the commencement of the Bangalore edition the daily reached the capital of Karnataka, to cover Mysore, Mandya, Kolar, Chamarajpet, Chitradurga, Davangere districts.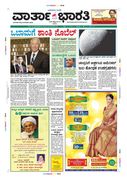 Varthabharathi Kannada Daily
You can read varthabharathi kannada daily here
Need some extra information about varthabharathi click below




tell me more
Varthabharathi Kannada Daily